<!- This is the Blog section of the site >
Saturday, May 30, 2009
12:56pm: I added a Pete Seeger youtube video on the Media page. ||||||
Charles Leblanc posted some pictures on his blog of a new clock at the Fredericton City Hall. The city payed $111,000 for it. The only response to his picture, written by Anonymous was: "Thats alot of money for a clock when there are people sleeping in the streets, starving!" -- And I agree.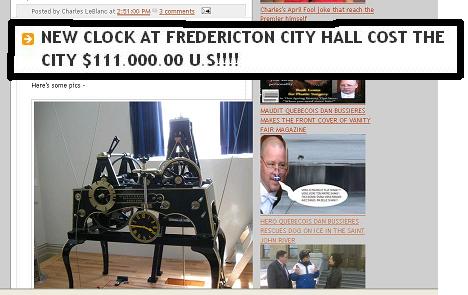 Friday, May 29, 2009
10:50pm: A few days ago, I learned about the attacks on Halabja that happened in Iraq in 1988; thousands of innocent Kurds were bombed and killed by chemical weapons. To me, this seems like just one of so many War tragedies that I had no control over. So what can I do?
A good friend of mine told me that I have the right to get mad. Well it definitely does make me mad. War is in no way part of our human nature, but it seems to be a big part in human politics. Somehow, we all need to become more politically aware, and stop the fucking craziness.
Here is a link to a youtube video about the Halabja massacre in 1988. ||||||
It was a rainy morning in Montreal.
Thursday, May 28, 2009
Skateboarding with Josh Clark gave me sore legs, but skateboarding is fun so I can't complain.
Wednesday, May 27, 2009
I finally changed the layout of my site to make it easier to use and update. The links to the sub-pages are at the top left for now.
Only about 2 & 1/2 weeks until we move out of Montreal and head back home to Saint John.
Yesterday I saw a crazy video filmed in the UK where a cop body-checks some guy into a wall and the guy ends up in a coma -- don't fuck with the PO-lice! Here's the youtube link: ||||||