<!- This is the Blog section of the site >
Monday, June 29, 2009
9:40pm: This week is my first week of working a full-time job in a while. I'm instructing Tennis at the Quispamsis Tennis Club (rec center), and it's been great so far.
Saturday, June 27, 2009
7:38pm: A couple years ago I met an employee of a water testing company located in Fredericton NB: "[the company's] primary objective is to provide the people of Atlantic Canada the essential service of Water Testing...". Basically, anyone can get their water tested by this company for a certain price; I think it may be around $40. Here's the link: InterMax.
6:16pm Today, Chelsi and I drove to Fredericton to pick up some of my things from Jeff's house. We just got back home.
Wednesday, June 24, 2009
10:49pm: This was another day of going to Quispam for Tennis work. Chelsi and I are back from Saint John Idol (thumbs down), and I'm just searching the internet. I just checked out CFMH 107.3fm and looked at the program schedule. Here's the link: |||||| I'm now listening to the Open Your Eyes show.
Sunday, June 21, 2009
5:17pm: I just learned that Kid Rock is a huge douche-bag.
5:09pm: I'm in the middle of watching a sweet video called al gore is a DICKHEAD. The video is worth watching; it's 11:00 minutes long and it's about global warming. Here's the link: ||||||
4:07pm: BACK ONLINE!!! Finally, Chelsi and I have the internet and cable TV in our apartment.
Thursday, June 18, 2009
9:52pm: We're now back in Saint John, but our apartement has a very limited internet connection. I hope to be back online soon.
Thursday, June 11, 2009
Moving to Saint John tomorrow! Cecilia helped Chelsi and I pack the U-Haul, and we're off first thing in the morning.
Wednesday, June 10, 2009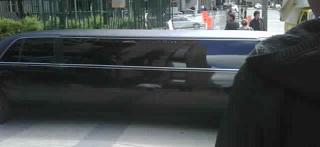 This afternoon, I spent some time outside of a conference in the city of Montreal. The conference was titled "Adapting to a New World Order". There were lots of people in business suits coming out of the building, and I snapped a picture of a limo on it's way out. I tried to go inside the conference room, but security said 'no'.
Friday, June 5, 2009
12:42pm: Charles Leblanc posted pictures of an important story. A journalist by the name of Matt Maccann was fired by Jamie Irving for a story he wrote about Premier Shawn Graham. Here's a pic: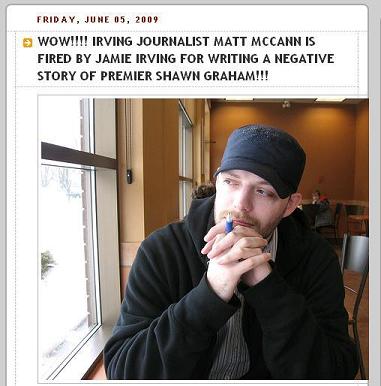 Charles explained that the full story of Matt Mcann will be covered by the CBC.
Here's a link to Charles Leblanc's blog: ||||||
Thursday, June 4, 2009
11:29pm: I've become a big fan of Alex Jone's radio show, which covers a wide range of US and world news. Here's a link to download his most recent shows (mp3 format): ||||||
Wednesday, June 3, 2009
11:37am: added another chapter to 'Walden'.